Geoloqi Extends its Reach to 350 Million Mobile Devices, 1.6 Million Mobile Developers, and a Database of 60 Million Places Globally, Giving Carriers and OEMs a Location-Based Platform Like Never Before
Austin, TX (SXSW Interactive) – March 11, 2012 – Geoloqi, a powerful platform for next-generation location-based services, today announced strategic new partnerships with Appcelerator, a leading cross-platform mobile development platform; Factual, a large-scale data aggregation platform with a Global Places API; and Locaid, the world's largest carrier location platform. Through these partnerships, Geoloqi is significantly enhancing its location data and analytics offering while expanding its reach to millions of new developers and end users through Locaid and Appcelerators' customer bases.
Geoloqi is a complete cross-platform location solution that is device, language and carrier agnostic allowing developers to easily layer geolocation onto any IP connected device or application. Geoloqi is creating a one-stop shop for the enterprise and developers to unlock the full potential of real-time location-based services. These strategic partnerships not only give Geoloqi a distinct advantage in location data and application development services, but also give carriers and handset manufacturers new technology for true real-time location tracking, for the first time. The platform also enables persistent background location tracking, real-time location tracking, intelligent battery management and geofencing, rich location and dwell-time analytics, and location messaging.
"These partnerships greatly enhance location technology for our collective customers and provide new opportunities for the enterprise," said Amber Case, CEO and co-founder of Geoloqi. "We are building the future of location services – key functionality for layering next-generation location technology onto any application or device. We're confident that these partnerships will drive open new markets and accelerate location technology more rapidly into the future."
Learn More about the Partners
Appcelerator

Winner of the 2012 GSMA Global Mobile Award for "Best Cloud-Based Technology," Appcelerator's Titanium is the leading mobile platform that powers more than 35,000 applications deployed on 40 million devices worldwide. Through the partnership, the Geoloqi API and complete toolkit is now available in Appcelerator's marketplace, giving its customers access to rich, real-time location technology while giving Geoloqi access to Appcelerator's global network of over 1.6 million developers.
"Appcelerator customers have been asking for a true, turnkey geolocation solution and location-based analytics platform for some time now, and we finally found one in Geoloqi that can meet the needs of our enterprise customers," said Jeff Haynie, CEO of Appcelerator. "Its powerful toolkit is an essential addition to our app development marketplace, and we're excited to begin offering Geoloqi technology to our customers next quarter."
Factual

Factual has created the definitive global location database of local businesses and points of interest, and currently offers access to 60 million entities in 50 countries. Geoloqi's partnership with Factual gives customers access to Factual's immense location database and significantly extends Geoloqi's data and storage capabilities.
"We are really thrilled to be part of Geoloqi's rich SDK for developers," said Eva Ho, VP of Marketing & Operations at Factual. "Adding our more than 60 million US businesses and POIs to their suite of tracking, geofencing and messaging tools will give developers everything they need to quickly build the next amazing app. Definitely a nice marriage of our strengths."
Locaid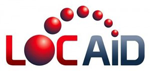 Locaid is the world's largest location-as-a-service company. The partnership gives Geoloqi access to its over 350 million mobile devices in North America, and gives Locaid's enterprise customers real-time handset-based location technology, greatly enhancing the carrier-only location services previously available.
"Mobile developers want the best of both worlds from location companies: the whiz-bang tools from device-based location and the massive footprint and no battery-drain from network location. Together, Locaid and Geoloqi give developers a one-two punch, the first such partnership in the history of location-based services," said Rip Gerber, Locaid president and CEO. "Now, companies large and small can combine Geoloqi's check-ins, location-based messaging, geofence alerts and real-time maps with Locaid's 350 million device footprint and privacy services to create amazing capabilities and apps for any device, anywhere, locatable anytime. Personally, I'm also delighted to be working with world's foremost cyborg anthropologist."
About Geoloqi
Geoloqi is a powerful platform for real-time location based services, making it simple for enterprise partners, OEMs and mobile developers to quickly add rich geolocation functionality to apps and devices. It provides a complete, real-time toolkit for tracking, messaging, battery management, geofencing, storage and actionable analytics, with a language agnostic SDK and proprietary API. Founded in 2010, Geoloqi is based in Portland, Oregon and backed by Portland Seed Fund and TIE. For more information on Geoloqi, please visit geoloqi.com.
About Appcelerator
Appcelerator's Titanium is the leading mobile platform of choice for thousands of companies who are seizing the mobile opportunity. With more than 35,000 applications deployed on 40 million devices, Appcelerator's Titanium Platform leverages over 5,000 mobile device and operating system APIs to create native iOS and Android apps as well as HTML5 mobile web apps. Customers who standardize on the Titanium Platform get to market 70% faster and can quickly optimize business results with analytics–driven insights into user behavior and app performance. The open and fully extensible Titanium Platform makes it easy to integrate data, content and services from a variety of sources into mobile applications to leverage best–of–breed capabilities. Appcelerator Cloud Services (ACS) provides instant social, location, communication and content features for user-centric mobility. ACS is pre-integrated into the Titanium Platform and is also separately available for all mobile developers and publishers. Appcelerator's worldwide ecosystem includes 1.6M developers and hundreds of ISVs and integration partners. Please visit appcelerator.com.
About Factual
Factual is a large-scale data aggregation platform that provides high value data and services to developers, publishers and enterprises. The sources of data come from premium partners, developers, user communities and the web. Its core offering is a powerful set of open APIs around Global Place data which includes more than 60 million businesses and points of interest in 50 countries. Factual was founded in 2007 by Gil Elbaz, co-founder of Applied Semantics which originally developed ASI AdSense. Factual is funded by Andreessen Horowitz and Index Ventures. For more information on Factual, go to www.factual.com.
About Locaid
Locaid is the world's largest Location-as-a-Service (LaaS) company. We operate a location privacy platform that allows mobile developers to locate over 350 million devices for enterprise authentication, fraud management, consumer location services and opt-in mobile marketing. Locaid locates smartphones, feature phones, tablets and any mobile device on leading wireless carriers, including América Móvil, AT&T, Rogers, Sprint, T-Mobile, TELUS, and Verizon Wireless. Locaid also helps shape and enforce location privacy policies via leadership roles on governing associations, including the CTIA, MMA and IAPP. The largest financial institutions, mobile marketers, M2M platforms and mobile service providers get network location from Locaid. Location Matters.™ You can locate us at www.loc-aid.com.
Media Contact
If you are press attending SXSW Interactive and would like to speak with Amber Case, CEO of Geoloqi please reach out to:
Vanessa Camones or Jennifer Lankford
theMIX agency for Geoloqi
415-412-2856 or [email protected]