The Grassy Knoll Gallery presents:
Geosketching – Gallery Show and CyborgCamp Pre-Party
Grassy Knoll Gallery
123 NW 2nd Ave
Portland, Oregon 97209
Friday, Oct 1st, 2010 6-9 PM
Exhibition Dates // Oct 1 – 29
Artist Reception // Friday, Oct 1st, 2010 6-9 PM. Free and open to the public
Gallery Hours // by appointment
DJ set by Let's Go Outside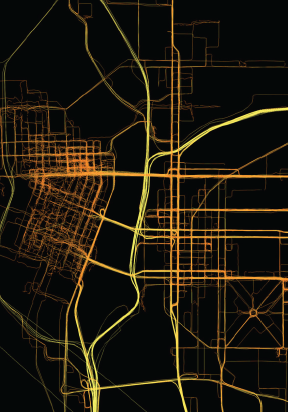 Where a person goes can reveal a lot about who they are and how they live. Thousands of people can live in the same city and have drastically different experiences.
GPS maps are a kind of technogeographical self portrait; a way of showing how one has lived during a certain period of time. The methods for taking data can reveal something about a person as well. There is no standard way of taking GPS data. One's map may differ greatly from another. For the past two years, Aaron Parecki has been carrying a GPS tracker with him at all times, walking, busing, biking, driving and flying. Amber Case has been taking data since January 2010. Together, they have logged over 10 million GPS points. These points have been plotted onto paper, then color-coded by time of day and speed of movement to render beautiful and thought provoking prints that serve as "geotechnological" self-portraits.
Portland-based PHP developer and GPS enthusiast Aaron Parecki experiments with automatic location check-ins and proximal notification systems. He also began using GPS to control the lights in his house and perform other automated actions.
Amber Case is a Cyborg Anthropologist from Portland, Oregon. She studies the interaction between humans and computers and how our relationship with information is changing the way cultures think, act, and understand their worlds.
Together the two founded Geoloqi.com in an effort to make GPS tracking and advanced co-location protocols available to the general public.
How Can I Do This?
Geoloqi, a GPS tracker app for iPhone, Android, Blackberry and Palm is in constant development. It will allow anyone to take data and make maps like these. If you'd like to beta test or help us develop it, sign up at Geoloqi.com or follow @geoloqi on Twitter.
Geosketching will also be an opening celebration for the upcoming Cyborg Camp Portland 2010 on October 2nd.
About Cyborg Camp
CyborgCamp is an unconference about the future of the relationship between humans and technology. Topics discussed include, but are not limited to, social media, design, code, inventions, web 2.0, twitter, the future of communication, cyborg technology, anthropology, psychology, and philosophy.
For more information and to register go to portland.cyborgcamp.com or contact Amber Case.
Fashionbuddha Studio creates world-class animations and interactive experiences. Fashionbuddha Studio is featured in Communication Arts Design and Interactive Annual, how Magazine, and Best of Show at the 2009 Webvisionary Awards. www.fashionbuddha.com
About the Grassy Knoll Gallery
The Grassy Knoll Gallery began in August 2007 as a venture between Robert Lewis, owner of Fashionbuddha Animation Studio, and curator Renee Marcotte. Located on the second floor of the historic Merchant Hotel in Old Town, Grassy Knoll Gallery provides a unique outlet for illustrators and animators.
For more information on past, current and future shows or to purchase artwork online, please visit our website at www.grassyknollgallery.com.