Geoloqi/Esri had a great time at the Foursquare Hackathon this weekend! Not only did tons of people show up to hack (over 200 globally, 100 at the NYC office, and around 50 at the SF office), we got to hang out with our friends Jim Young and Bronwyn Agrios from Esri's SF office!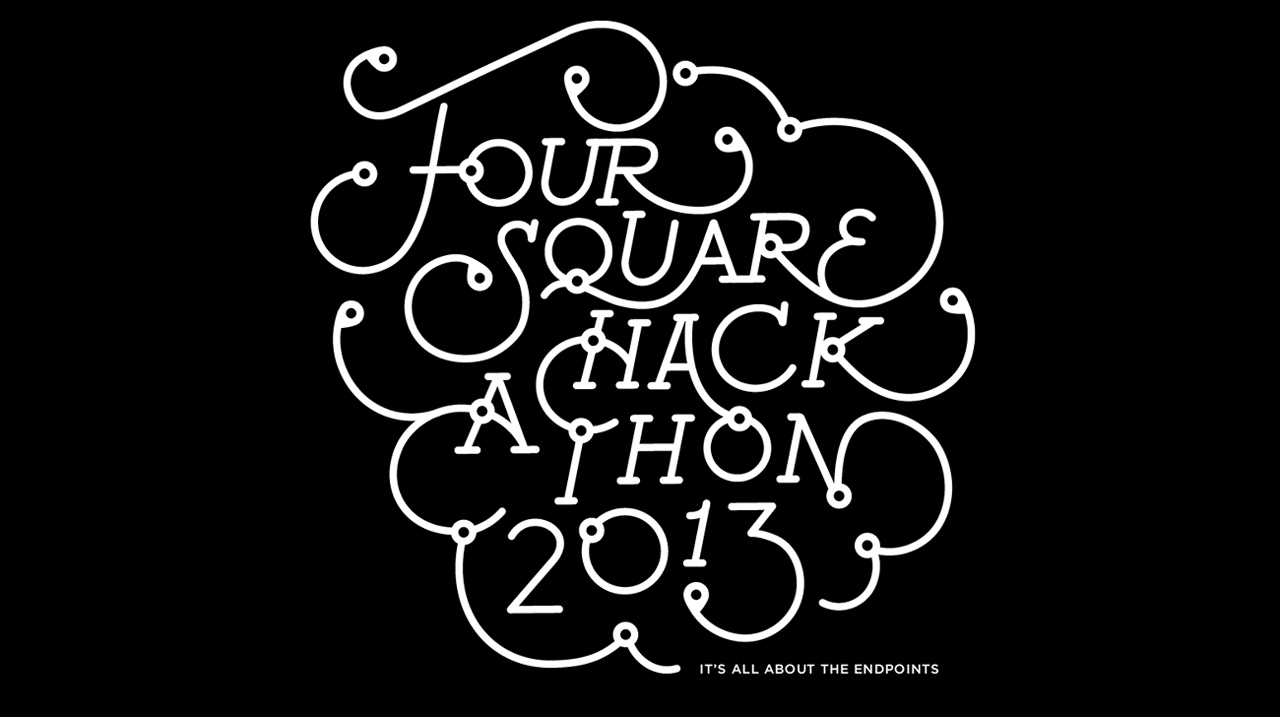 Together we built interesting stuff, saw interesting hacks, and met lots of new people.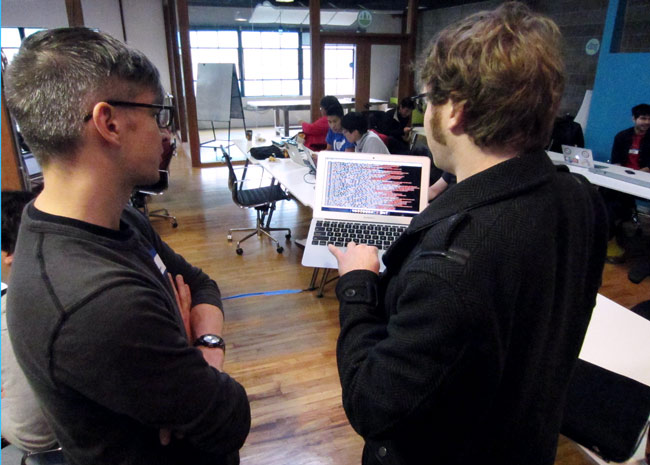 Esri/Geoloqi platform developer Kyle Drake (top right) shows the output of the NASDAQ API to a hackathon participant.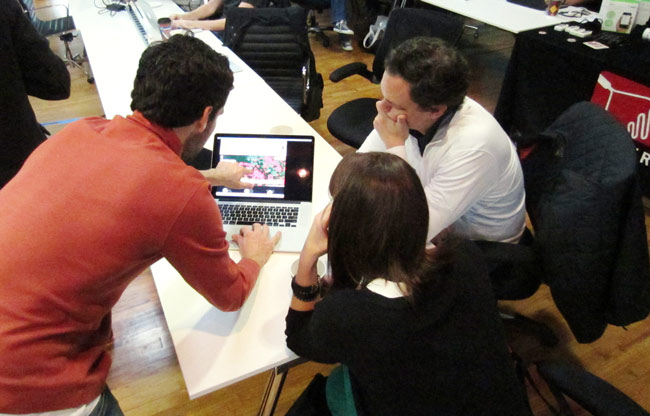 Jim Young and Bronwyn Agrios (top right) from the Esri SF get a demo from a fellow hackathon participant.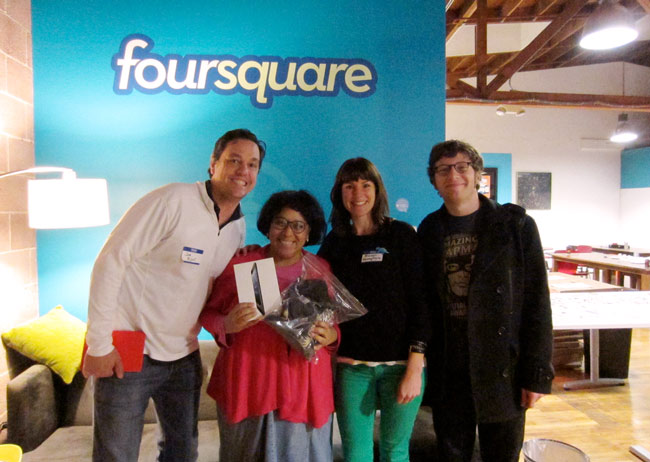 We awarded an iPad prize to Leah Vaughan (second from left) for her great use of an Esri map! Her app was called "Stuck at the Airport". It recommends interesting places/things to see around you when you're in transit areas (train satins, airports, rest stops, etc.).
Also, Kyle Drake, Aaron Parecki and I put together a hack using the NASDAQ and Foursquare APIs called NASDAQ Facts (below).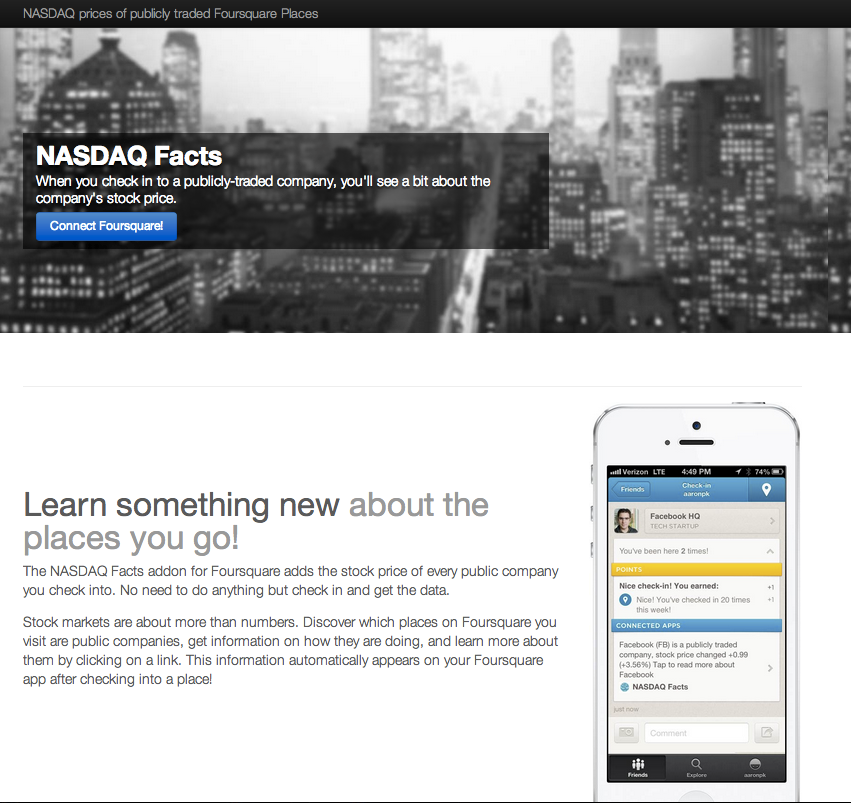 NASDAQ Facts for Foursquare tells you the stock price of every public company you check into. Stock markets are about more than numbers. Discover which places on Foursquare you visit are public companies, get information on how they are doing, and learn more about them by clicking on a link. The information automatically appears on your Foursquare app after checking into a place! (We ended up winning a flying shark for this hack!).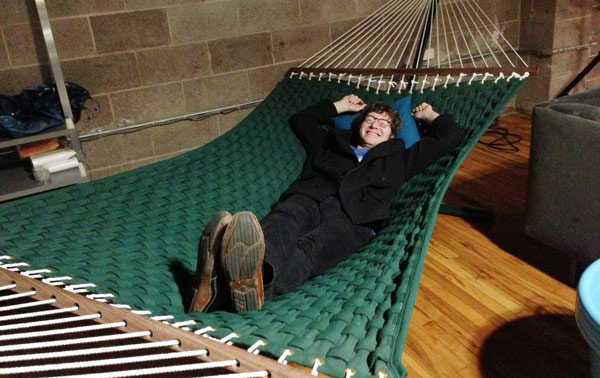 We finished our hacking early, so Kyle Drake hung out in the Foursquare office hammock.
See you next time!
You can see a list of all the Foursquare Hackathon projects here, as well as the local winners and global winners! If you'd like to build cool stuff with us in the future, let us know! Who knows? We may soon be coming to a hack day near you!
Follow us!
(You can find Jim and Bronwyn at SF's Hatchery!)